We discovered the DAC instrument cases while touring Japan. Very high quality and EXTREMELY compact these cases are made with a super durable ABS Plastic shell and dense high quality foam padding that can be adjusted to best protect your instruments and allow various configurations (see photo below). Our trumpeters, Chris Coletti and Caleb Hudson, use their Multi Trumpet Case when touring. This is the smallest and lightest multi trumpet case we have been able to find weighing just over 6.5 lbs and measuring 21 long x 14 high x 6.5 deep. It easily fits in the overhead of an airplane and gives great protection to their gold plated Bach instruments. Even with the small size of the case you can use it a variety of ways including combinations such as 2 trumpets and mutes, 2 trumpets and a piccolo trumpet and several others that you can see in the pictures above. Chris said it is probably not as well suited for carrying a flugel horn because of the larger bell size.
The hardware on the case is very high quality and it comes with permanent adjustable backpack straps.
We offer the case in either Black, White or Turquoise colors. See the pictures above for more information.
INTERNATIONAL SHIPMENTS AND THOSE OUTSIDE OF THE US 48 STATES WILL INCUR ADDITIONAL SHIPPING EXPENSES THAT CAN BE PROVIDED AS A QUOTE IF YOUR CALL OR EMAIL US AT (866) 391-9226 or [email protected]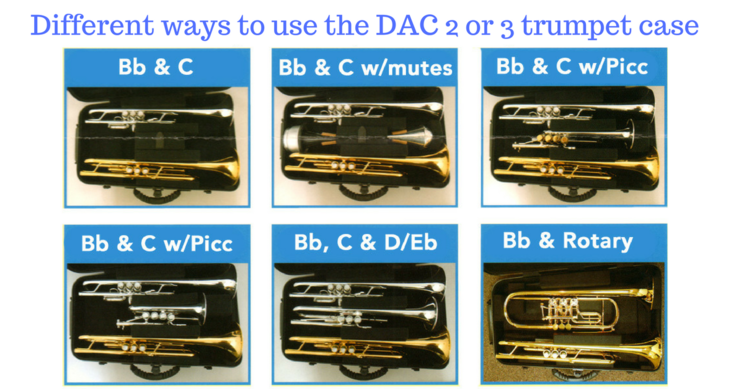 Wow, what a well designed and crafted case! It is deceptively spacious taking up just a little bit more space than my double cases, but carries so much more. The genius of this case rests in the moveable inserts that provide flexibility for various setups to accommodate different horn combinations. They keep the horns secure and from.moving around inside and the outside is protected by a hard shell. I paired mine with the DAC pouch for music carry and it is also great. The only advice I would give is to replace the straps that come with the case as I didn't find those as impressive as the rest of the case, although to be fair I didn't have issues with them, just a personal choice I made to replace mine. Btw, you do not have to cut the straps off if you choose to replace them. There is a screw that can be removed that allows for the removal of the straps. Best case I've owned by far for protection and convenience. I much prefer this type of case closures with latches to cases with zippers!