REVISED
We discovered the DAC instrument cases while touring Japan. Very high quality and EXTREMELY compact, these cases are made with a super durable ABS Plastic shell and dense high quality foam padding that can be adjusted to best protect your instruments and allow various configurations (see photo below). The DAC TP2+a trumpet case is unique among professional cases in that it is totally customizable inside. It is designed to carry two full-sized Bb or C trumpets, or a Bb/C in combination with a piccolo trumpet, rotary trumpet or mutes (see photo). With the exception of some padding along the bottom edge of the inside wall and along one part of the lid, there are no permanently affixed structures. All structures—blocks, pads and even the small accessory compartment—are configured by you to best fit your horn. The case is of fiberglass construction and is one of the lightest we have ever seen at only 6.65 pounds (3 kg). It is sleek and compact, taking no more room than is needed to safely carry your horns. The case comes with two straps, arranged in backpack fashion, which are permanently attached to four steel D-hoop cleats.《Renewal Point》
A compact flugelhorn with a bell diameter of up to 15.5 cm and a cornet can now be stored. Only the depth of the case has been increased by about 1.5 cm. Additional photos above showing flugelhorn options.

It is a next-generation standard case full of ideas that can be customized according to your own music style
The hardware on the case is very high quality and it comes with permanent adjustable backpack straps.
See the pictures above for more information. Unfortunately the most recent brochure is only in Japanese but the pictures should explain most of the options.
INTERNATIONAL SHIPMENTS AND THOSE OUTSIDE OF THE US 48 STATES WILL INCUR ADDITIONAL SHIPPING EXPENSES THAT CAN BE PROVIDED AS A QUOTE IF YOUR CALL OR EMAIL US AT (866) 391-9226 or mike@canbrass.com.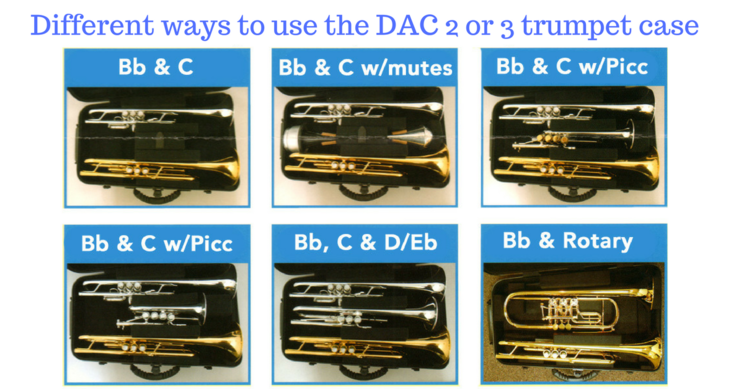 Wow, what a well designed and crafted case! It is deceptively spacious taking up just a little bit more space than my double cases, but carries so much more. The genius of this case rests in the moveable inserts that provide flexibility for various setups to accommodate different horn combinations. They keep the horns secure and from.moving around inside and the outside is protected by a hard shell. I paired mine with the DAC pouch for music carry and it is also great. The only advice I would give is to replace the straps that come with the case as I didn't find those as impressive as the rest of the case, although to be fair I didn't have issues with them, just a personal choice I made to replace mine. Btw, you do not have to cut the straps off if you choose to replace them. There is a screw that can be removed that allows for the removal of the straps. Best case I've owned by far for protection and convenience. I much prefer this type of case closures with latches to cases with zippers!