Canadian Brass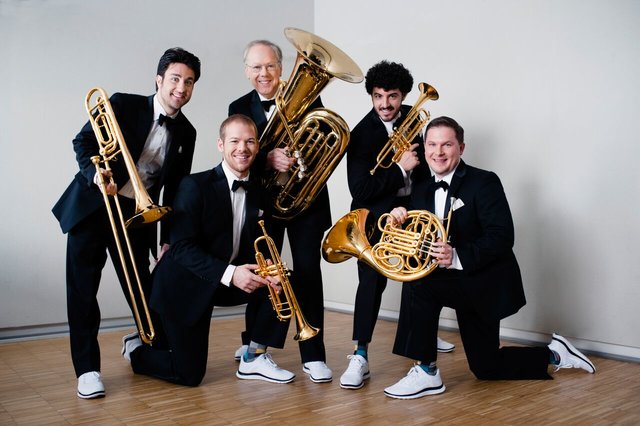 Five tremendous brass musicians — each a virtuoso in his own right — form the legendary Canadian Brass, a group hailed as the "world's most famous brass ensemble" by the Washington Post. Friends Chuck Daellenbach and Gene Watts first came together in 1970 to form a brass quintet — a chamber music setting not entirely new, but never before having garnered the success and storied career Canadian Brass would achieve over the next 40 years. With a vast repertoire from Baroque masters to marches, holiday favorites to Dixieland, and jazz to Broadway, Canadian Brass has created their own musical world by transcribing, arranging and commissioning more than 200 works. With a discography of over 90 albums and an extensive world-wide touring schedule, Canadian Brass is an important pioneer in bringing brass music to mass audiences everywhere. They have sold well over one million albums worldwide and continue to score Billboard chart positions. Their recent CD, Stars & Stripes Canadian Brass Salute America, peaked at #2 on the US charts in the summer of 2010. They have toured the world, playing to packed houses throughout the USA, Canada, Japan and Europe. They were the first brass ensemble from the West to perform in the People's Republic of China, where they returned for a 5-city tour to great acclaim in the spring of 2010 and back again for a live television appearance seen by ½ billion people in 2011, as well as the first brass group to take the stage at the venerable Carnegie Hall. They have also performed in Australia, the Middle East, the Soviet Union and South America. In North American, millions of television viewers have had Canadian Brass come into their homes with appearances on The Tonight Show, Today and Entertainment Tonight and numerous PBS specials and have been frequent guests of many major symphony orchestras,. Canadian Brass was the featured artist on the soundtrack to the 1988 film The Couch Trip, starring Dan Aykroyd and Walter Matthau. they are on the cutting edge of technology offering their fans multimedia opportunities.
Education plays a key role in the story of Canadian Brass and each member is uniquely attuned to working with and inspiring the next generation of players. On their travels around the world, they often pause for master classes and are more than happy to work with students and young audiences. Canadian Brass is currently Artist in Residence at the University of Toronto after having been Chamber Quintet-in-Residence for many years at the Music Academy of the West in Santa Barbara, California, and has created an innovative brass summer course at the Eastman School of Music. A vital part of their outreach is their role as clinicians and exclusive artists for Conn-Selmer Musical Instruments, conn-selmer.com/. The Brass perform exclusively on a set of 24K gold-plated Artisan Bach and Conn horns, and their support of education is also clearly viewed in their outreach and interaction with El Sistema, the acclaimed global music education program in Venezuela and their in their new partnership and commitment to the Conn-Selmer Institute, csinstitute.org/. In conjunction with the Hal Leonard Corporation, the Canadian Brass have also made available, an extensive library of brass music for performers of all levels as well as learning tools, all in conjunction with the Hal Leonard Corporation, halleonard.com/.
The group is led by founder, Chuck Daellenbach on tuba, Caleb Hudson & Chris Coletti on trumpet, Eric on horn, and Achilles Liarmakopoulos on trombone.

for more information please visit www.canadianbrass.com