Avis Romm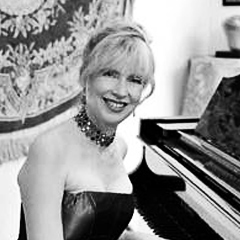 Avis Romm's love affair with the piano began as early as age three. That passion led her to studies at The Juilliard School, where she earned her BM and MM degrees. While in New York, she became a popular freelance and recording artist. In addition, she performed as a solo and ensemble pianist for radio, television and stage throughout the United States, Canada, Europe and Japan. Based in Canada, Avis soon found herself in demand as pianist, theater music director and opera coach/conductor. She also appeared as soloist with the Hamilton Philharmonic, Toronto Operetta and at the Banff School of the Arts.
Living in Florida since the 1990s, Avis has worked extensively with the Sarasota Opera Company and performs regularly with internationally renowned soloists. An avid music educator, she is a specialist in the Carabo-Cone Method, a sensory-motor approach to music learning, and spearheaded an innovative project by Yamaha Music Canada to integrate music education and classroom activities in the public schools.
Today, you can find Avis and her husband, Ronald Romm – former solo trumpeter of the Canadian Brass - performing frequently onstage together, much to the delight of their many fans and friends. Avis Romm is a Steinway artist.